How to outsouce?
The process of writing software that is programmed on a mobile application platform and is functional in the form of apps for mobiles and small computing devices is referred to as Mobile App Development. Mobile app development is a vital part of the software development industry as mobile apps are used more often than websites and web apps. Next, we will talk about Outsource Mobile App Development.
In today's age, mobile app development is in great demand as every business wants its platform to be accessible to everyone. This in turn has started a rapidly growing mobile development industry and there is a new industry of iOS, Android, React Native, Flutter, and other mobile application developers out there.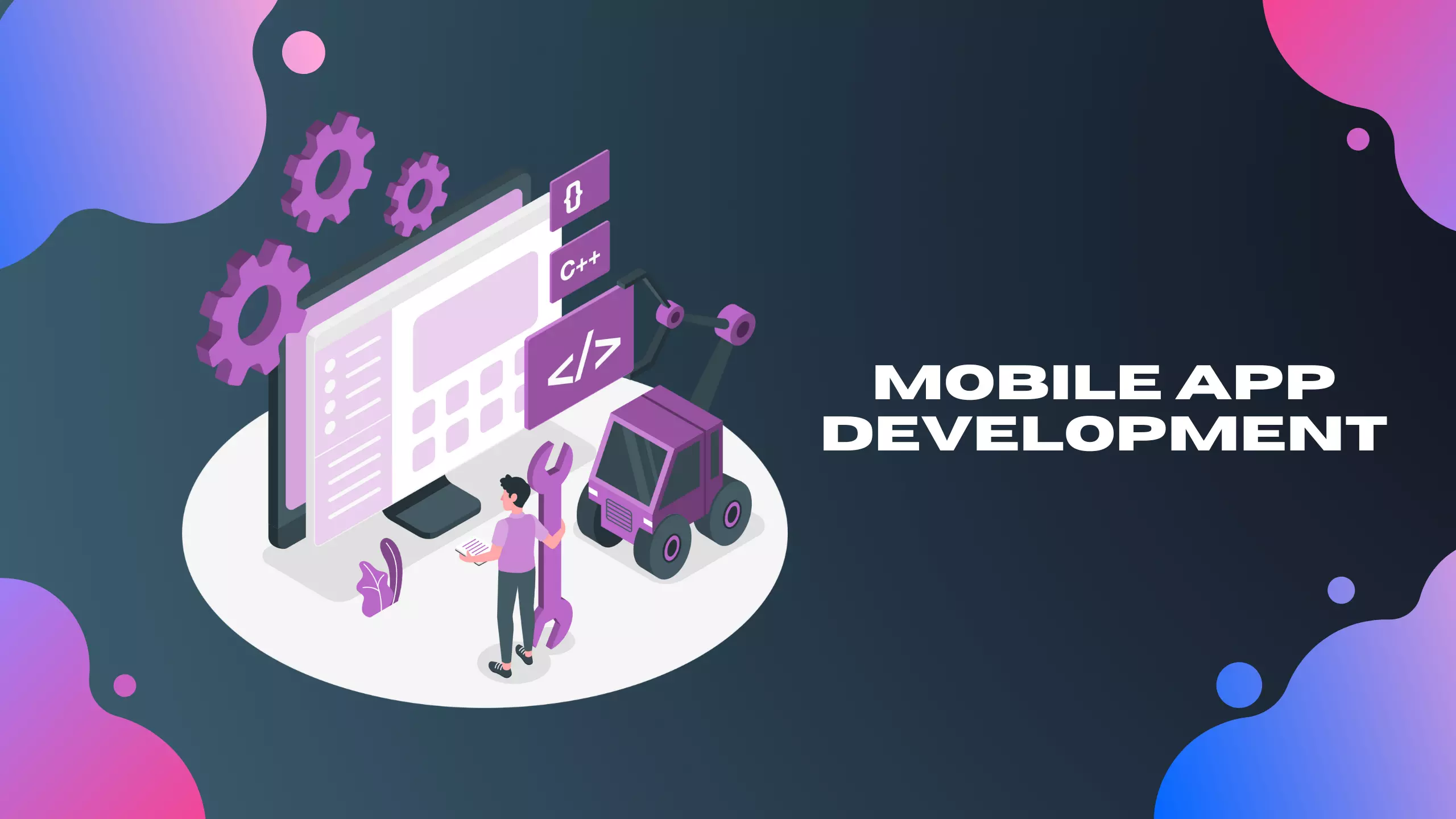 For a business, it may be daunting to look for the perfect mobile application development agency or organization. Although there are plenty of companies offering their service in mobile development, the ability to outsource mobile app development can be challenging for a business because of the everchanging technical requirements and app development needs. Thus, in this article, we are not only covering the details of how to outsource an article but also mentioning the technicalities of what steps to follow in the complete lifecycle of the mobile app development process.
Outsourcing in Software Industry
Outsourcing in the software industry refers to the ability to hire or do a partnership with a third-party agent, agency, or organization to fulfill your software development needs. Outsourcing is a great option for businesses that do not have enough expertise to complete the desired project. It may be the result of fewer resources available to complete a task or a different business niche. For example, a business working on marketing may outsource its marketing app development to an external freelancer or agency having relevant experience in the marketing domain.
Outsource Mobile App Development is really common in businesses dealing with multiple projects. Not only it helps a business get a better understanding of the current software trends but also relieves it from the burden of carrying out the software development procedures. Not only startups or small scale but large organizations also outsource tasks in which they lack expertise. Thus, we see many big names collaborating from time to time to help out each other and accomplish their requirements respectively.
Outsourcing an app is not child's play as choosing the right agency or organization can make or break your months of effort, money, and reputation in the market. If a business is looking for mobile app development services to outsource, selecting an agency having expertise in a hot favorite mobile app development framework such as Flutter, React Native, iOS, or Android is considered.
Outsourcing Companies
Outsourcing companies, agencies, or individuals get hired by some business or individual to complete a particular set of tasks. It differentiates from a job in a way that the outsourcing party is not a team member of the same organization. They have their own workspace and are only related to the outsourced project until the delivery of work.
Outsourcing has become a trend these days not only because it relieves a business of the work but also helps them focus on their work and lets the outsourcing agent handle the mobile application development for you.
In-house vs. Outsource Process
There are considerable differences when it comes to in-house or internal mobile app development against outsourcing the development tasks. In-house means that the app development team will be working in the same office or workspace. This provides a great way for businesses to keep on checking the amount of work done and give the developers valuable input to make sure that the work is aligned with the expected goals.
In-house development offers its own perks; however, there can be cases when it is not beneficial. In-house mobile application development requires a workspace for the engineering team and is usually expensive as there are many cost factors included. The most expensive cost factor with in-house development includes a specialized team of developers along with others.
Another important issue with in-house mobile application development is the lack of knowledge. As the software industry is continuously evolving, there will be a need to do a lot of research and development before proceeding with the actual tasks. However, with outsourcing, a business can look for a specialized person in advance instead of training them. Thus, the outsourced agency or freelancer can be hired having expertise in the framework a business is looking to get an app on.
Outsourcing mobile application development can be considered a great choice if the scope of the work is limited and it does not require a lot of input or feedback from the business. Similarly, if there are time and cost restrictions, training the in-house resources can be daunting, thus, a business can go with outsourcing.
In contrast to outsourcing, an in-house app development team can be more beneficial if a business is working on an internal product or project. If the team is experimenting with an idea and there is a lot of feedback and changes involved, an in-house team is a better option.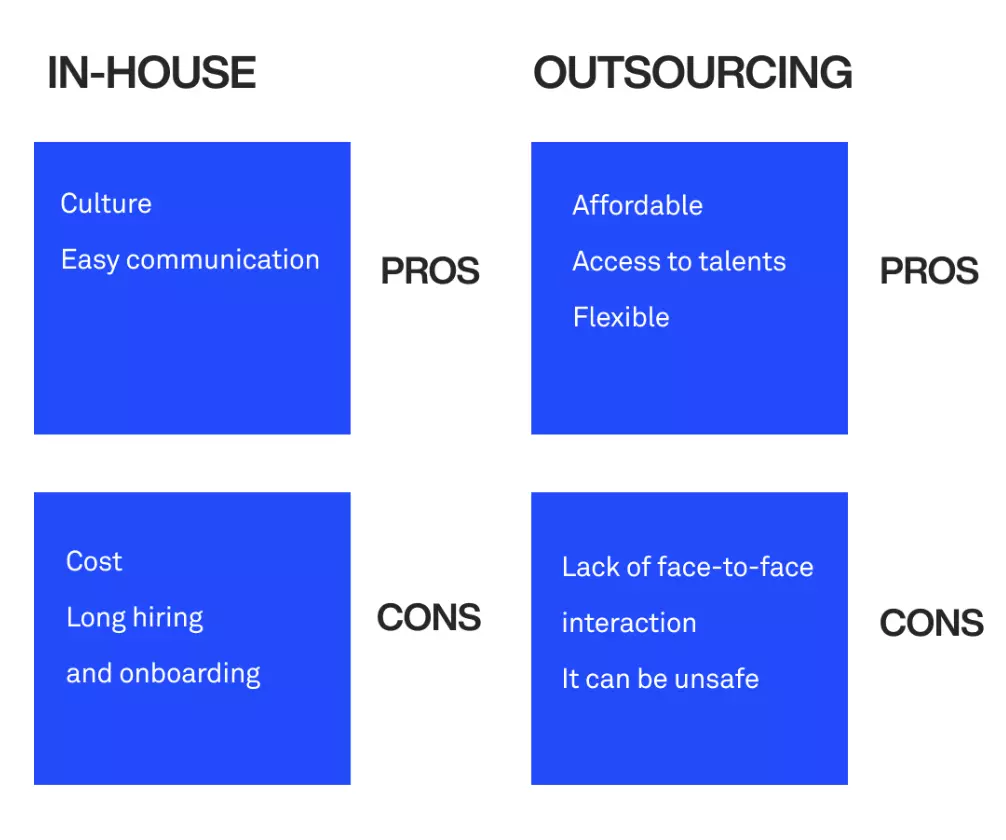 Trends in Mobile App Development
Mobile app development began with native development in which the apps are developed based on a specific platform. These apps only support a specific platform for which they are designed. However, the latest trends in mobile app development have shifted towards cross-platform development in which an app with a single codebase can work effectively on multiple platforms.
Depending upon the target market, a business can get in touch with a particular agency to outsource mobile development work. There are plenty of mobile app agencies that encapsulate both native and cross-platform programming languages so it can be a great choice.
Mobile app development can be regarded as a booming industry because of the increased demand of businesses wanting to make a presence in the form of apps. We are now seeing app versions of different websites used more often than the latter. This popularity has resulted in solid mobile application development frameworks such as Flutter, React Native, Ionic, etc.
Often, some organizations or businesses do have enough resources to create a web version of the app but are looking to outsource the mobile development work to experts in the fields. As this outsourcing of mobile app development has created a whole new industry for freelancers and agencies, we are seeing more and more outsourcing job descriptions online.
Read also: How to Monetize Mobile Apps?
Mobile App Development Services to Outsource
Mobile app development is not only used for business-to-business services but also used by the general public to fulfill some needs. It includes plenty of services like frontend development, UI/UX design, backend development, third-party API integration, and so on. Apart from the development of the app from scratch, there are services of mobile app maintenance, quality assurance, and migration from one native to a cross-platform framework and vice versa.
For a business looking to outsource mobile app development, it is essential to first jot down the services they are looking to avail. Whether the outsourcing party is a single freelance developer or a thriving app development industry, there needs to be a clear understanding of what the business needs are, what market they are targeting, and how they are willing to process. Furthermore, getting the technical know-how of the development process helps in case a business is not related to technology. Once a business completes its homework regarding the requirements of mobile app development, it can dive into the framework, technologies, and tech stack they want its mobile app to build on.
Options for Outsourcing
There are plenty of options in the market to outsource mobile app development work such as hiring a freelancer, recruiting a third-party team of developers as contractors, or completely handing over a project to an external agency. Depending upon the size of the mobile app, the number of features required, and the time duration of the app development, a business or individual can choose the outsourcing option. For small apps, businesses usually outsource the work to freelance developers or contractors. However, for medium-sized or big-scale industry-level mobile apps, a business can get in touch with an agency or professional mobile app development organization.
Outsourcing work is not only restricted to specialized organizations as there are tons of small agencies and freelance mobile developers pitching in their services. Thus, for a business looking to outsource, there can be plenty of options. The most prominent options are given below.
App Development Agency or Company
A mobile app development agency or company refers to a group of people working in an office space or remotely to collaborate with businesses for outsourced work. App Development Agencies incorporate a collection of skilled developers having full-fledged expertise in their domain. This option is formal as all the project scopes and requirements will be carried out first before starting the work. Outsourcing the mobile app development to a company can be ideal as the chances of getting a full-functional app within the estimated time are really high.
Outsourcing mobile app development agencies hold a reputation in the market and in order to meet clients' expectations, they can go the extra mile. Thus, if an app to be developed is complex, has several features involved, and the time duration is short, outsourcing the work to a mobile development company or agency is ideal.
Freelance Developers
Many freelance developers and solopreneurs are working on outsourcing tasks assigned by clients. Getting in touch with a freelance developer can be helpful for a business because hiring just a single freelancer to manage all the app work can be really economical. Freelance mobile app developers are responsible for working on frontend, backend, database, maintenance, testing, and deployment. Therefore, it can be an ideal choice for small apps.
Using off-the-shelf software
There are many software products and subscription services available that can serve a business' mobile app development needs. Outsourcing an app may not be required if there already exists some use case a business is looking for. The main thing to consider in this regard is that off-the-shelf mobile apps may limit the functionality or are restricted in some way. Therefore, it cannot be an option if some specific app is required.
Mobile Application Development Outsourcing Steps
There are plenty of mobile application development frameworks available in the market such as Flutter, Kotilin, Java, iOS, etc. but choosing the right one is essential. Therefore, a general understanding of this can be helpful in the next steps of outsourcing.
Finally, when all the business and technical details are finalized, there will be a need to follow several steps starting from delivering the mobile application requirements, carrying out the scope of the project, attending features meetings, to finally getting the project in production and closing it. The details of these steps are covered below.
Requirement Analysis and Scope
To outsource a project or product to a software development agency or freelancer, the requirements of the work should be analyzed first. Defining the boundary of the project including the mobile framework, features and functionalities that need to be done, breakdown of tasks, and all the sub-tasks should be listed thoroughly. Also, high-level and low-level details of the work should be captured in a meeting with the outsourcing agency to define the scope of the project. Once the requirement has been delivered, it is also required to list down what details are not required to avoid inconvenience laterwards.
Project Initiation
The project kicks off once the requirements of the outsourced mobile development project are finalized between the software agency or individual and the business. For the mobile development process, there are two popular development methodologies named waterfall and agile. In the waterfall model, the requirements gathered in the initial stage are locked so there is no possibility to amend the feature or task later. However, nowadays, agencies are rapidly moving towards an agile method in which the development process starts, features and functions can be amended depending upon the client's requirements, and tasks are locked from sprint to sprint which is usually a two-week timespan.
Depending upon the development method chosen, the next steps are underlined by the outsourcing agency and delivered to the business. For example, if you are looking to develop a shopping app, your outsourcing agency will break the tasks into different sprints and will describe to you the details of how the designing and development process will be carried out, what will be the expectation of each meeting and sprint, and what is the expected time of completion.
Designing and Development
Designing and development is the step where all the theoretical knowledge, meeting discussion, and paper-based work is actually converted into a software piece. Many mobile application development agencies provide front-end development and designing services to create an efficient front end. Therefore, the outsourced freelancer or agency can start with creating mockups of the work, frontend pages, and static data details to show the client how the app will look.
Once the frontend work is finalized, the backend development process starts. Although both of these steps can be carried out in parallel, bigger apps usually follow this step-by-step journey to make sure everything is covered properly. The backend is linked with the frontend to show a full-fledged working app and the client or business can demand each function or feature to understand the milestones covered in the project.
Testing and Maintenance
The testing and maintenance process goes in parallel with the development and design. This is done by the outsourcing agency to make sure that no feature breaks down. For an organization, there are separate testing resources; however, if the project is outsourced to an individual, he/she will be responsible to do the testing along with other steps. The maintenance is also carried out hand in hand on staging and production links and for clean code delivery.
Closure and Receival of the Project
Once the mobile application project has been completed by the development agency, the final delivery phase of the project starts. During this phase all the requirements are check-marked, bug treatment is finalized, and all the expected work is delivered to the business. Thus, a business and the outsourcing agency reach the end mark unless there is some new work to do in the future.
Outsourcing Model
Project or Product-Based App
A business can get in touch with an outsourcing agency to work on a project or product. Usually, the app development project takes less time than developing a product as there is not a lot of ongoing back-and-forth feedback. For a business wanting to develop a product-based app, it may take really long as it has to include the services a business offers and have to cover all the essential aspects to complete the functionality.
Fixed Price or Hourly based contract
Usually, there are two payment methods followed by outsourcing agencies to develop an app. These include fixed-price projects and hourly-based work. A fixed-price app development process typically follows a particular estimated time and features. In this method, the scope of the work is clear and the outsourcing company is liable to charge extra if some additional functionality is required. Also, it is easy to track the app status as each feature has a fixed price, is assigned to a milestone, and is manageable.
For hourly-based contracts, a business can assign dedicated hours to a freelancer or agency work. The hourly rate for the mobile app is negotiated and finally, some sort of tool is used to track the time taken to work on the app for record purposes. Hourly-based contracts are good for outsourced projects if a business is not sure about the work and wants to discover and experiment with the app details during the development. Both of these payment methods are accepted in the market; however, the business needs to make sure which one suits them the best.
Read also: Considering Fintech App Development: Where to Begin?
Preliminary Analysis of Outsourcing
Most agencies and freelancers hold an online portfolio for people to reach out to them. There are plenty of websites offering outsourcing work but it is really difficult to select the right one according to your needs. For this step to work out fine, there will be a need to do some initial work before reaching out to outsourcing companies.
Budget Estimation
Before starting to outsource your work to a company, a business needs to perform a preliminary analysis of the mobile app required. The first step in this process is to calculate the budget available to outsource the app. In many cases, a business outsources the work and finds it difficult to manage the finances later. Therefore, having a proper budget assigned by thoroughly identifying each component of the mobile app is good.
Creating an Outline for the Mobile App
Although the outsourcing agency or freelancing individual can create the outline, frontend, and user interface of the app, it is better if a business has some idea about the design of the app. Not only it speeds up the designing process but also gives the outsourcing companies an understanding of what the client actually wants.
Research for Different Options
For mobile app development, there are plenty of options available. Therefore before finalizing an agency to outsource work, a business can carefully look at other agencies providing the same services. This helps a business in identifying the standard rates for mobile app development and finding out the best among competitors. Some of the research aspects for businesses include the type of projects that the outsourcing agency has worked on in the past, the tech stack or framework the agency specializes in, feedback and reviews from past clients, and the partners involved with the outsourcing agency.
Essential steps to consider
Choosing the right mobile app development agency or freelancer to outsource a mobile software development project requires a lot of prerequisites to consider. Before outsourcing, a business should first start with identifying the relevant agency. As the business needs to develop an app targeted to a particular agency, there is a need to find relevant agencies providing its mobile app services.
There are many essential things to consider before outsourcing. Some other essential elements to consider include the reputation of the agency in the market, past projects done, successful delivery of work and types of the market covered.
Advantages of Outsourcing
It can be difficult to outsource work if there is a lot of communication and interference involved. But utilizing great project management techniques to handle outsourcing work can solve this problem. Some of the most noticeable advantages of outsourcing mobile application development work are listed below.
Cost Factors
Outsourcing app development work is usually cheaper as compared to app development with an in-house team. If the project needs to be done using some unfamiliar technology or tech stack, it is better to find a skilled professional to outsource. Doing the same work with an in-house team not only delays the project work but there is also a cost of training involved.
Remote Working Capabilities
Outsourcing means that you are handling your responsibilities to a skilled professional. If the outsourcing agent can carry out mobile app development without any need to interact much with the business, there is a great opportunity for remote work.
Nowadays, we are seeing a lot of professionals working from home or from somewhere outside of the office. Although there may be a need to visit the office on and off for meetings and planning, usually outsourced work is remote and is considered a great choice.
Skillful Development
Outsourcing agencies or individuals are trained to work on a wide range of technologies. They are keeping up with the latest development trends to make sure that there remains a demand for them in the software industry and this in return makes them skillful. If an unfamiliar project comes up and is carried out by an in-house team, there will be a need to get familiar with the framework and do some kind of learning before starting the actual work. In contrast, outsourcing eliminates this disadvantage as the professionals are pretty familiar with their work.
Read also: The Importance of Healthcare Mobile App Development in the 21st Century
Disadvantages of Outsourcing
Outsourcing mobile application development is a great option however, it can be a nightmare if a business does not have the technical understanding of the work. Some of the major cons involved with outsourcing are the following.
Technical Understanding of the Work
If a business itself working in the IT industry decides to outsource, there are very less chances of any technical problem. However, for businesses dealing with other niches, outsourcing mobile app development can be challenging. As the business itself does not have any knowledge of the mobile app framework or basics of mobile app development, they are clearly dependent on the outsourcing party's word. This means that the amount of time, frameworks involved, and good programming practices can be disregarded.
Not suitable for flexible businesses
Small businesses and startups are flexible in their approach to development. To meet clients' requirements, these businesses can make instant amendments. When some sort of outsourcing is involved in this aspect, there can be a problem as in most cases, the outsourcing party makes sure that the requirement of work is fixed first and then the development process begins.
Problems in case the features are not clear
As mentioned above, if there is a change in feature or functionality laterwards in the project, it will be hard to implement for the outsourcing agency. Also, there are chances that they may charge a little extra with each change.
Problem with updates and maintenance
Outsourcing mobile app development work is a one-time thing. Most businesses only hire freelancers or agency experts for a limited period and when the work is done, both the business and the agency move on to their separate ways. This can be a problem if there are updates or maintenance required laterwards. Convincing the professional to add a new feature or work with the updates is a great challenge as there is a possibility that they may be working on something else. These updates and maintenance of the mobile app development will be charged separately so there can be a problem in case some changes are required later.
Read also: Native vs Cross-Platform Mobile App Development
Finding the right outsourcing company or freelancer
Outsourcing companies market their expertise on different freelancing platforms, job sites, and portfolio sites. They are actively looking for businesses wanting to outsource work so they usually reach out to people via blogs, B2B directories, and networking platforms.
Networking Platforms
Agencies or outsourcing companies reach out to businesses mostly using professional networking or job-seeking sites such as Linkedin, GlassDoor, etc. They create an online presence by advertising their services so, for a business, it can act as an initial point of contact.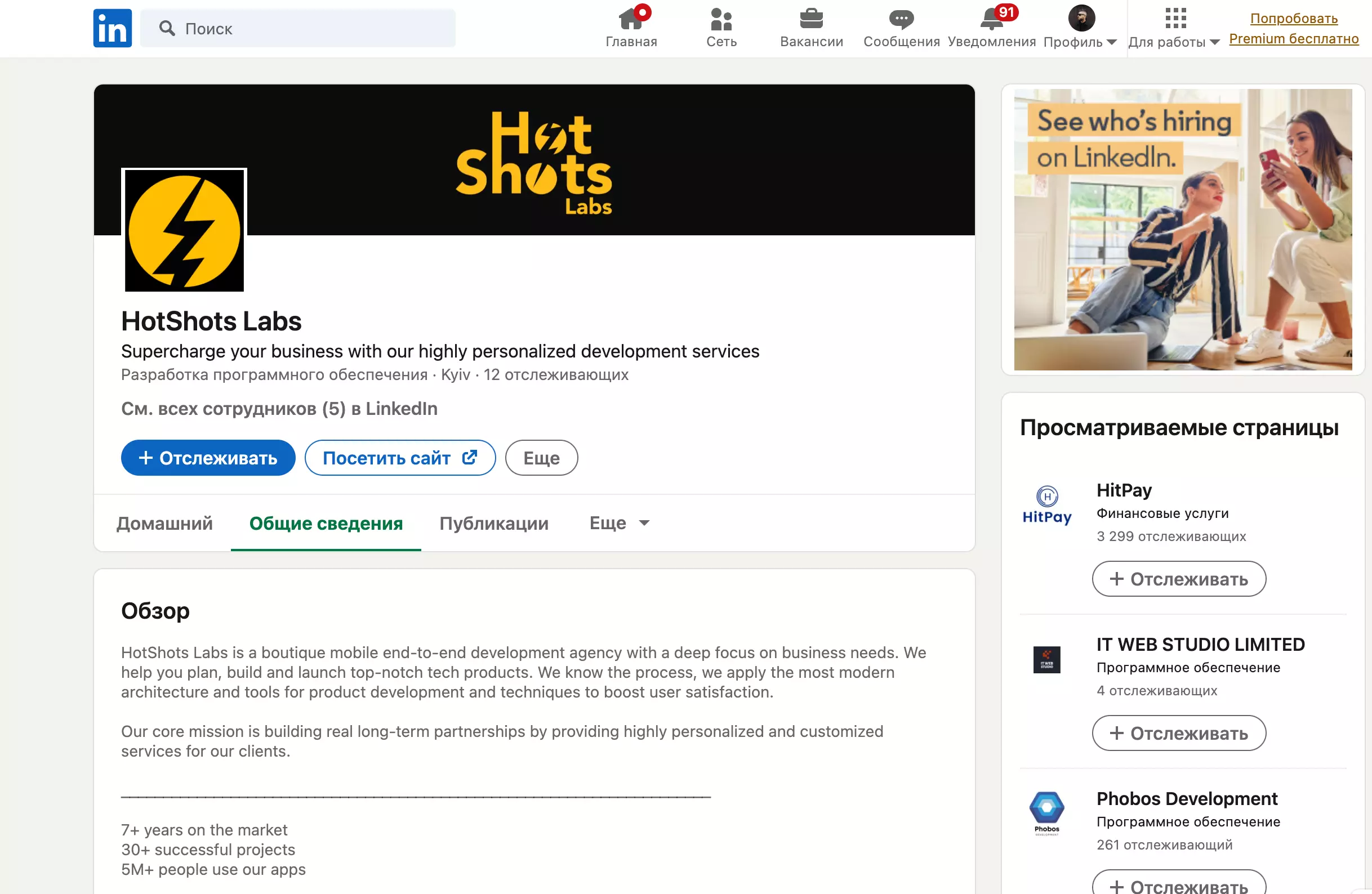 Freelancing Sites
There are plenty of freelancing sites such as Upwork, Fiver, PayPerHour, etc. offering mobile app development services. On these platforms, a business can hire individuals as well as agencies in case there is a great amount of work. Keep in mind that this type of hiring is remote so all the business meetings, sprint planning, and retrospective meetings will be online.
Blogging Sites
Mobile App Development agencies also maintain their online presence by regularly publishing their blogs. These blogs not only contain trends, tutorials, and mobile app development techniques but list down the services offered. Usually, these blogs are added as a separate module to company websites for the businesses to directly land.
Outsourcing mobile apps are great to reduce cost and increase productivity while keeping in mind the estimated time. It is an accepted practice among businesses of all sizes so for a new business, mobile app development can be outsourced for convenience, professional expertise, and top-class functioning apps.